Events
The event functionality within the system is designed to aid in the monitoring of objects by providing real-time notifications of rule violations. These violations include, but are not limited to, instances of speeding and the movement of objects in and out of designated zones. The event feature serves as an effective tool for ensuring compliance with established rules and regulations, enabling users to take prompt action in response to any violations. Furthermore, this feature enables users to stay informed and aware of the actions and movements of the objects, thus ensuring the safety, security, and efficient management of their assets.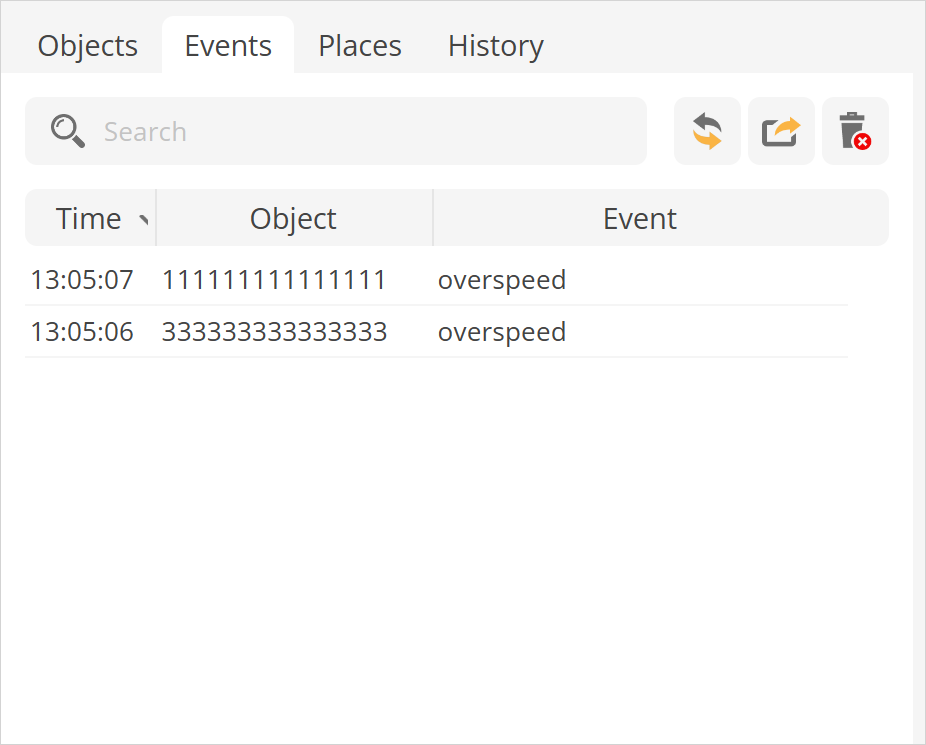 The event management feature within the system offers a robust set of tools to manage and monitor events effectively:
Search - an intuitive search function that allows users to quickly locate specific event records by object name or event name.

- a button that updates the events list in real-time, ensuring that the information displayed is current.

- a button that exports the events list to a CSV file, providing a convenient way to store and analyze the data.

- a button that removes all events from the events list, allowing users to clear the list for new events.

Time - a column that displays the time when the events were generated, providing users with accurate and relevant information.

Object - a column that displays the object name associated with the event, allowing users to easily identify which object the event pertains to.

Event - a column that displays the name of the events, providing users with a clear and concise description of the event.
Overall, this comprehensive feature set provides users with an efficient and effective means of managing and monitoring events within their system.