History
The History section provides a comprehensive overview of all relevant information pertaining to objects, including route details, stop locations, addresses, time schedules, zones, and the capability to generate short reports.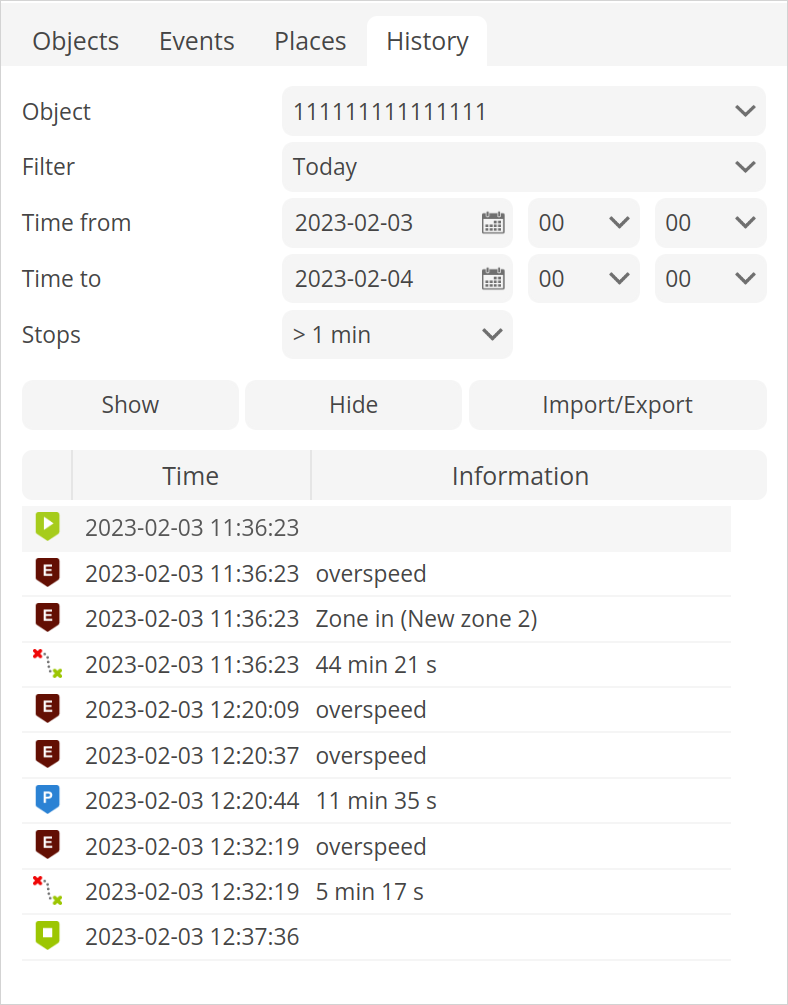 Object - select the object whose history you wish to display.

Filter - convenient method to set the time period for the report.

Time from/Time to - precise method to define the time period for the report.

Stops - Establish the time frame for stops to be included in the report, allowing for the exclusion of stops at traffic lights.

Show - display the history for the selected time frame.

Hide - hide previously displayed history.

Import/Export

Save as route - the Object History can be exported as a route for further use in the Routes tab.

Load GSR - allows to load previously saved in GPS-server GSR object history file.

Export GSR - allows to export object route history to GSR file for viewing in GPS-server software.

Export to KML - export object history information in to KML file format.

Export to GPX - export object history information in to GPX file format.

Export to CSV - export object history information in to CSV file format.

Graphic elements - each history event is marked with icon:

Time - date and time of occurrence of the history event.

Information - brief description of the event.
Once the desired history period is loaded, the bottom panel displays detailed information for that specific time frame. This provides a convenient and accessible way to review and analyze sensor readings and location data.
Graph
The history graph displays the results of various configured sensors for the selected GPS tracking device such as speed, altitude, ignition, fuel level, temperature and others, over a specified period of time. This allows users to visualize and analyze the sensor readings and track changes in these readings over time.

Please note!
The drop-down menu provides the option to select up to three sensor diagrams to be displayed simultaneously, allowing for an efficient and convenient comparison of multiple sensor readings.
Location messages
The location messages feature provides a comprehensive list of all location points received from the selected GPS tracking device over a specified time period. This information is valuable for verifying that the device is transmitting the necessary sensor parameters and can be used to configure sensors and events. The ability to view this data provides a clear understanding of device behavior and enhances the accuracy of sensor readings.