Objects
The Object List tab within the application provides users with a comprehensive view of the available objects within their account. This tab allows users to easily locate the objects on a map, view the object's route history, and make necessary adjustments to the object's settings. This feature not only provides users with a clear understanding of the objects' locations but also enables them to manage and monitor the objects' movements and configurations efficiently. Overall, The Object List tab is a powerful and valuable tool that enables users to effectively manage and track the objects within their account.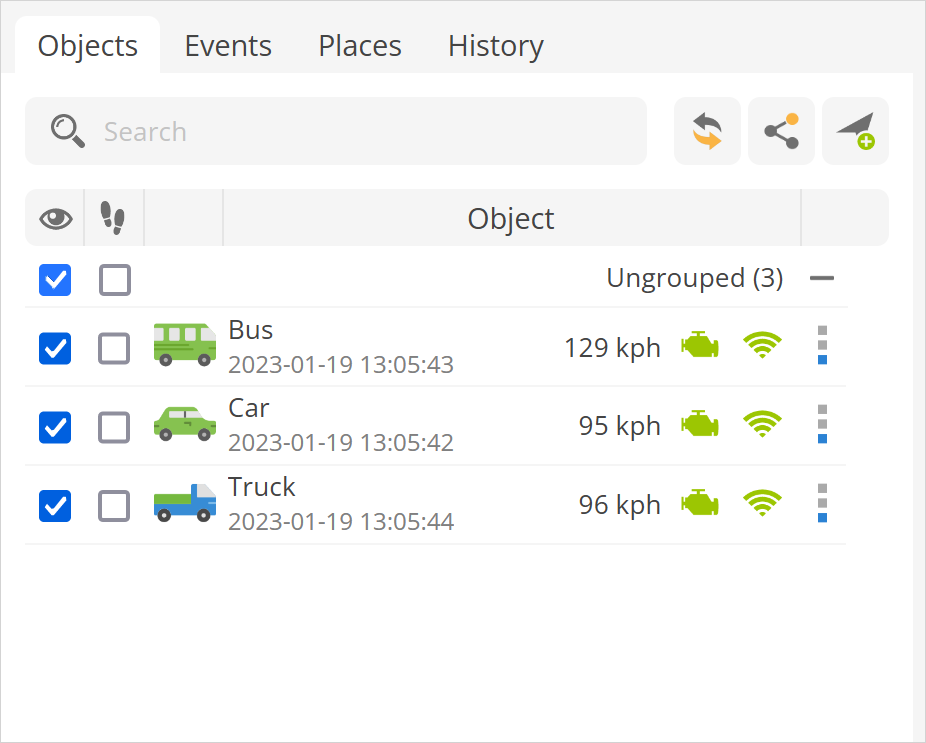 Search - finds objects in the object list by object name, IMEI, ID or license plate number.

- updates the status of objects in the list.

- allows to share the selected object or the position of the object by e-mail or SMS.

- allows to add a new object to a user account.

Group - specifies the group name to which objects are added and allows merging groups for easier use. By default, objects that are not added to a group are marked as Not grouped.

- turns on or off the visibility of objects on the map.

- centers the selected object in the center of the screen each time the GPS device has updated its position when multiple objects are selected - the map is zoomed in so that all remain visible. Object icon - displays the icon of the object that is also displayed on the map.

-specifies the object icon that will be displayed on the map when it is set.

Object information - object name, date and time of the last received location.

Speed indicator - shows the current speed of the object.

- shows the state of ignition. To use this function, the ignition sensor (ACC) must be configured.

- indicates the GPRS and GPS signal status.

- opens menu with following options:

Show history - efficient method for retrieving historical data within a specified timeframe.

Follow - opens hover window that displays the movement of selected object on a map.

Follow (new window) - opens a new browser tab showing the movement of the selected object on a map.

Street View (new window) - launches a new browser tab that displays the specified object's location in Google Street View.

Send command - opens Object control menu .

Edit - opens object Object properties menu.